HI AND WELCOME TO OUR WEBSITE!
HAPPY NEW YEAR for 2017!!! Our loyal van is hanging in there...as it's been a real work horse for us and, fortunately, always got us to the show. Anyway, all 3 of us, Phil, Trudy and the Hiace! are commited to hanging in there so we are counting on your continued support.
Speaking of your support, our next endeavors will be playing at the "Tamworth Country Music Festival" in January 2017. Also our album "One Plus One Equals Three" was reviewed by Michael Smith in Rhythms magazine, you can read what he had to say on the Music page.
Phil would also like to extend his thanks for the ongoing support and help of Gerald Pink who's exceptional fingerpicks he has been using for some time now. Gerald does a fantastic job of his stainless steel pick sets which he custom makes and are second to none, it was great to catch up with him at Thredbo. Gerald plans to have a website up shortly but in the meantime if you need further information please email us.
While we're busy thanking people we would also like to extend our gratitude to Peter and Mandy Clinch of ClinchFX for keeping our gear functioning and David Churchill of Churchill Guitars for not only keeping our instruments sounding healthy but also for his tireless support and encouragement!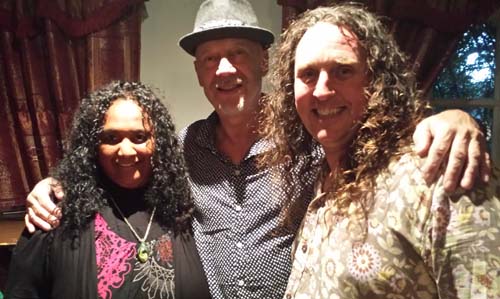 Cheers Phil and Trudy


"A duo that really defines Roots music - engaging and confrontational.
A great experience" - Russell Morris

2017

Jan 20 - Station Bar (Katoomba, NSW)

Jan 21 - The Agrestic Grocer (Orange, NSW)

Jan 22 - The George (Bathurst, NSW)

Jan 23 - Atrium Festival Stage - Tamworth Country Music Festival (Tamworth, NSW) 2pm
Jan 24 - Atrium Festival Stage - Tamworth Country Music Festival (Tamworth, NSW) 2pm
Jan 25 - Atrium Festival Stage - Tamworth Country Music Festival (Tamworth, NSW) 2pm