HI AND WELCOME TO OUR WEBSITE!
So far this year we have open some shows for Russell Morris for the second year running, played Thredbo Blues Festival (Thredbo, NSW), Gosblues Festival (Gosford, NSW), The End Festival (Hill End, NSW), Wintermoon (Calen, Qld) then in a couple of weeks we will be doing Palm Creek Festival (Townsville, Qld) then doing an Intimate Show in a very special place near Mackay, Qld. From there we will be heading to Brisbane to flyout to USA to do our Big Sky Country Tour for 6wks. We are looking forward to returning back there after have a 1 year break from touring USA. So people are looking forward to seeing us again. Also we will be doing a show with George Washingmachine on Thursday, 17 November, which we are very excited about, so start organising for this date - or you will miss out.
See details on our Gig List. Please keep an eye on this page for any changes.
Our album "One Plus One Equals Three" was recently reviewed by well respected Singer/Songwriter Mark Lucas, you can read what he had to say on the Music page.
Phil would also like to extend his thanks for the ongoing support and help of Gerald Pink who's exceptional fingerpicks he has been using for some time now. Gerald does a fantastic job of his stainless steel pick sets which he custom makes and are second to none, it was great to catch up with him at Thredbo. Gerald plans to have a website up shortly but in the meantime if you need further information please email us.
While we're busy thanking people we would also like to extend our gratitude to Peter and Mandy Clinch of ClinchFX for keeping our gear functioning and David Churchill of Churchill Guitars for not only keeping our instruments sounding healthy but also for his tireless support and encouragement!
Please remember that your own support is also invaluable to us so continue to spread the word! See you at our next show but if you can't make it, tell your friends, or, even better bring them along!

Cheers Phil and Trudy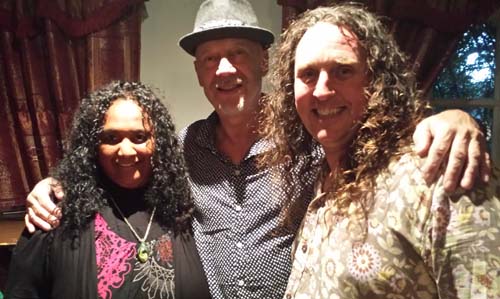 "A band that really defines Roots music - engaging and confrontational.
A great experience" - Russell Morris

April/May/June 2016 - East Coast Tour
Sat 23 & Sun 24 - The End Festival (Hill End, NSW)

Fri 29 April - Mon 2 May - Wintermoon Festival 2016 (Cameron's Pocket, Qld) TICKETS ARE NOW AVAILABLE

May 2016

Fri 22 - Dingo Beach Hotel (Dingo Beach, Qld) 12.30pm

Fri 27 - Bingil Bay Cafe (Bingil Bay Cafe, Qld) – 7pm

June 2016

Fri 10 - Mon 13 - Palm Creek Festival tickets still available!!! as of 26.05.16


July/August 2016 - USA Tour
DATES TO BE ADVISED
November 2016 - NSW Tour
Thurs 17 - Lizottes (Lambton near Newcastle, NSW)
Phil & Trudy Edgeley with Special Guest George Washingmachine (Lambton, NSW)
Show Only With A La Carte Available (premium seating) $29.00
Show Only With Bar Menu Available $29.00
After an impromptu set at Thredbo Blues Festival earlier this year the three of us swiftly came to the conclusion that it would be a great idea to repeat the experience. Despite all of us having demanding touring schedules we managed to set a date where we could once again come together for one special show only, an opportunity not to be missed, because anything could happen...and it probably will...